"US government funded BRAIN STUDY should end fluoridation worldwide"
—  Paul Connett, PhD
Presentation to New Zealand Parliament, February 22nd 2018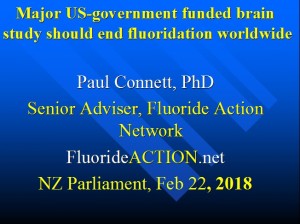 Click on the graphic above, or on the link below, to open or download the presentation.
http://bramptonreiki.com/PC_parliament_talk_NZ.ppt

September 2017: Fluoride Exposure in Utero Linked to Lower IQ in Kids, New Study Says
Read more: https://fluoridealert.org/articles/fluoride-exposure-in-utero-linked-to-lower-iq-in-kids-new-study-says/
300+ Brain Studies
Fluoride's ability to damage the brain is one of the most active areas of fluoride research today. Over 300 studies have found that fluoride is a neurotoxin (a chemical that can damage the brain).
Read more: https://fluoridealert.org/issues/health/brain/
Pregnancy and Fluoride Do Not Mix.  Click below to learn why:
Michael Connett, Fluoride & The Brain
2014: Attorney Michael Connett gave a detailed presentation on fluoride's effect on the the brain at the 2014 Fluoride Action Network Conference. According to long-time EPA risk assessment scientist, Dr. William Hirzy, Michael knows more about this topic than any scientist at the EPA today.  Note that the evidence has continued to mount since the time of this talk.